Art Basel is a world class fair for modern and contemporary art occurring annually in Basel, Hong Kong, and Miami Beach.  As one of the largest and best established events of its kind, Art Basel draws an audience from across the globe full of collectors, curators, artists, critics, and fans.  Art Basel Miami Beach 2017 will take place in December during Miami Art Week and is expected to bring upwards of 80,000 travelers into the city.  250 of the world's leading galleries participate.  The event is simultaneously a high profile meeting of art world professionals and a week-long Miami Beach party, balancing sophistication and celebration.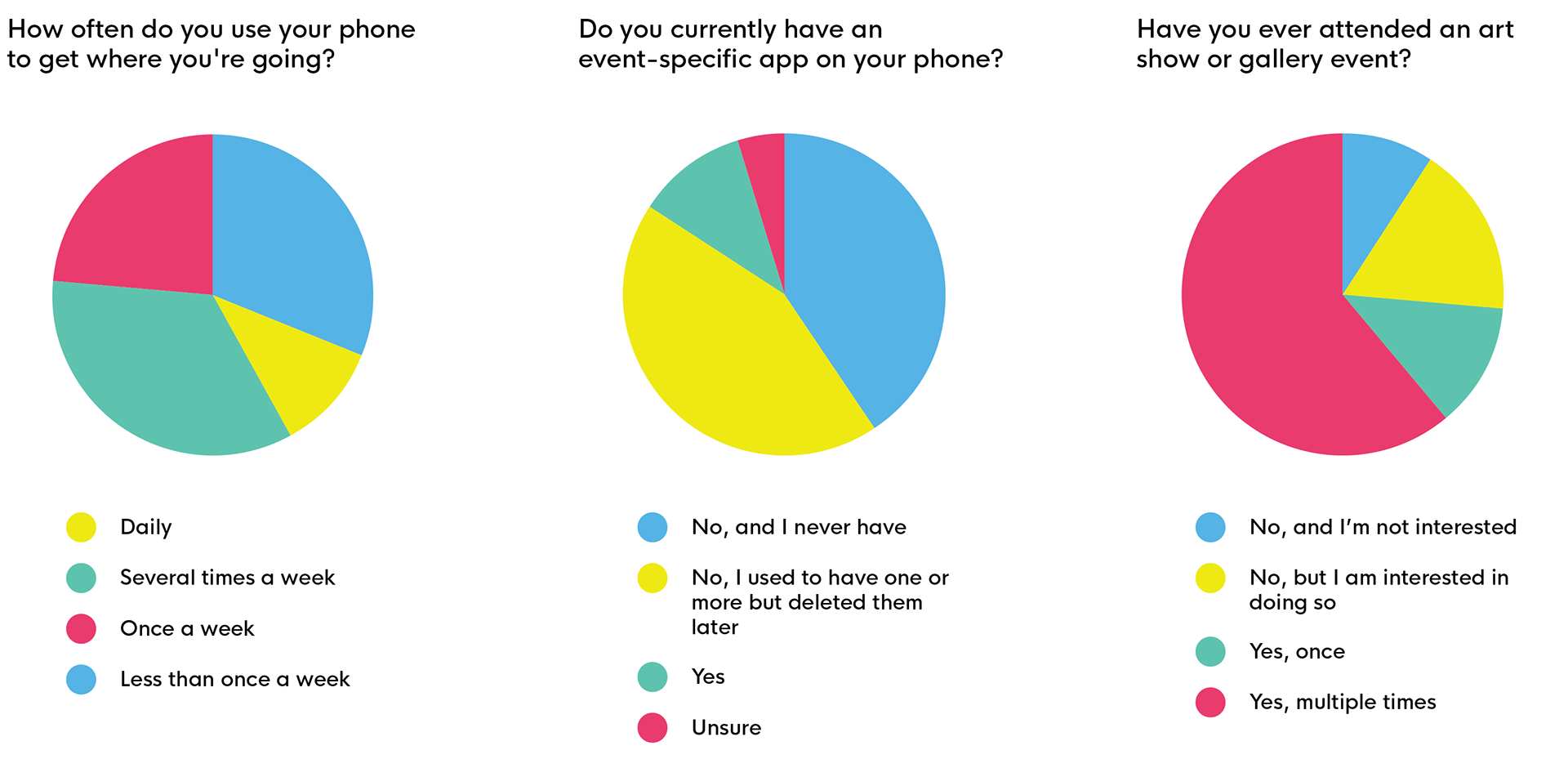 The initial stages of this project were about familiarizing ourselves with the Art Basel event as well as conducting extensive research on how such an application might be used.  We started by conducting interviews and surveys to answer questions such as how much people used mobile devices to get from one place to another and how consumers prefer to find information about events, upcoming and ongoing.  We used market research to become experts on Art Basel and Miami Art Week, creating spreadsheets and detailed lists containing all of the information we could find on the satellite art events in Miami and Miami Beach every December.  Competitor benchmarking helped us to gain insights on the strengths and weaknesses of mobile and web platforms used by other international art fairs.  We also did a detailed study on the existing Art Basel app, which is outdated and lacks interactivity.  At this point we were able to begin formulating an idea of what a user's journey through Art Week and, by extension, through our app.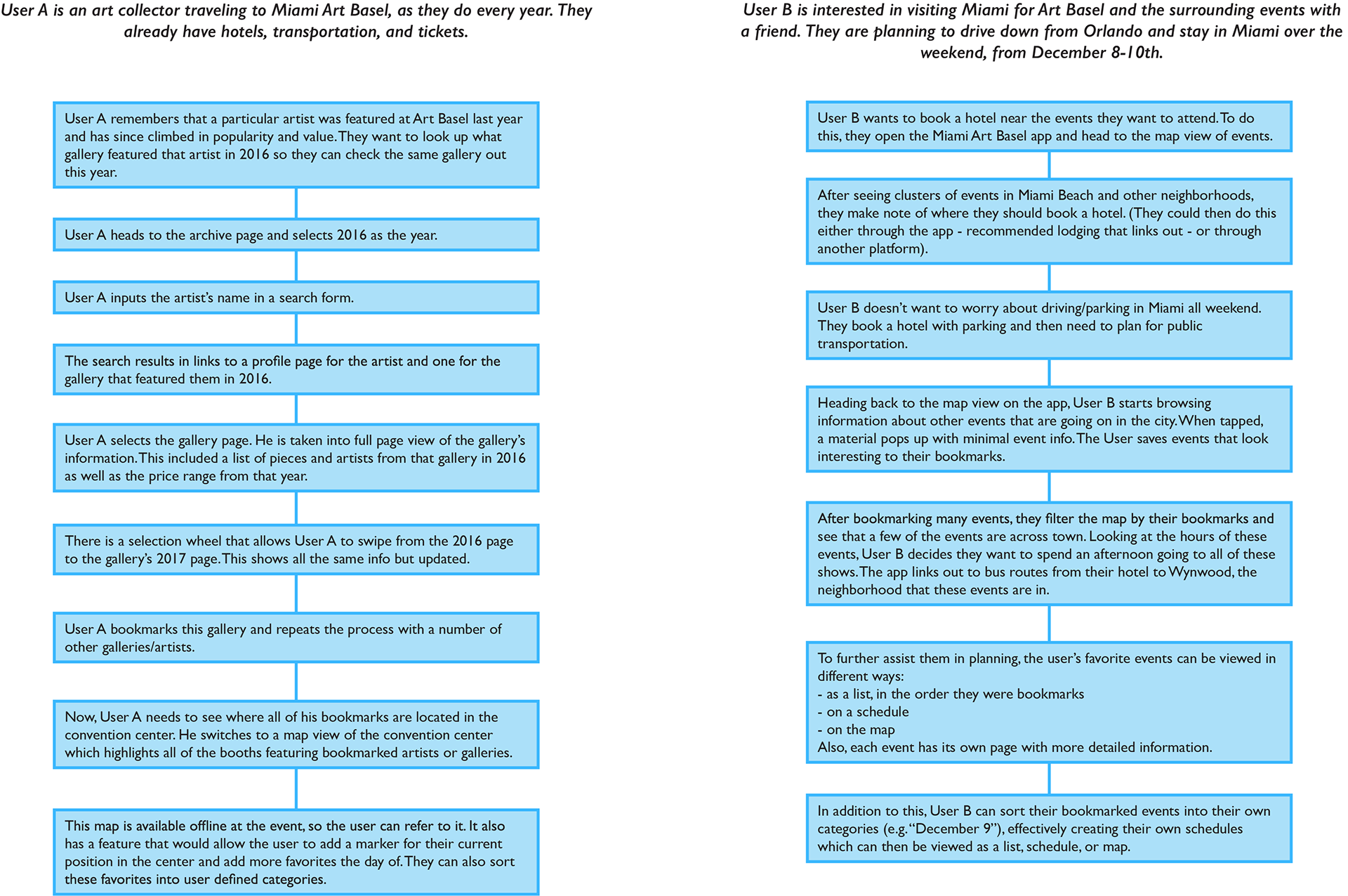 We were able to distill our target audience into a few typical user types with common traits.  We focused on two distinct user groups: User A (art world professional) and User B (traveler coming to Miami for Art Week).  User A is already familiar with Art Basel Miami Beach.  It's important for them to be able to use the app to plan out their week in advance, making sure not to miss shows featuring artists or galleries they are interested in from a business standpoint.  After arriving in Miami, they will use the app as a timetable to stay on schedule throughout the week.
The other key target audience is the vacationer, coming to Miami to soak in the culture and enjoy themselves.  Visiting Miami likely for the first time, User B is unfamiliar with the city and will use the app for wayfinding and learning about specific events.  This user is more likely to use a map view to see what's going on nearby while at an event and won't adhere to a rigid schedule.  User B makes up a large portion of Miami Art Week's attendance, along with Miami locals.  The latter fell somewhat to the wayside in our project, largely due to the hypothesis that locals would be too familiar with the city and galleries to use the application much.
Creating user flows and learning about our target audiences helped us identify pain points in scheduling and navigation, which then allowed us to design more thoughtfully while still meeting Art Basel's business needs.  From this point we could move onto initial prototypes, taking the features that seemed necessary and beginning to arrange them on a screen.
Prototyping & Visual Design
As the first prototypes were being pieced together, much of the decision-making was about cutting down on unnecessary features and optimizing for the ones that were really necessary.  In an effort to keep users engaged with our product after Art Basel Miami Beach 2017 ends, we originally thought it might be interesting to integrate a feature for following artists and galleries from the event.  This feature could notify users in real time when an artist was showing work nearby as well as creating an aggregate feed of posts from all followed artists and galleries.  This feature was ultimately cut because it would make the app too complex, detracting from the functionality of our primary concept.
Another feature that we considered for some time was the inclusion of hotel booking and public transportation routing in a map overview of Art Week.  This was abandoned for similar reasons, as the technology for locating hotels and transit exists on platforms such as Google Maps, and we wanted to create something that would serve our purposes instead of replicating something already widely used.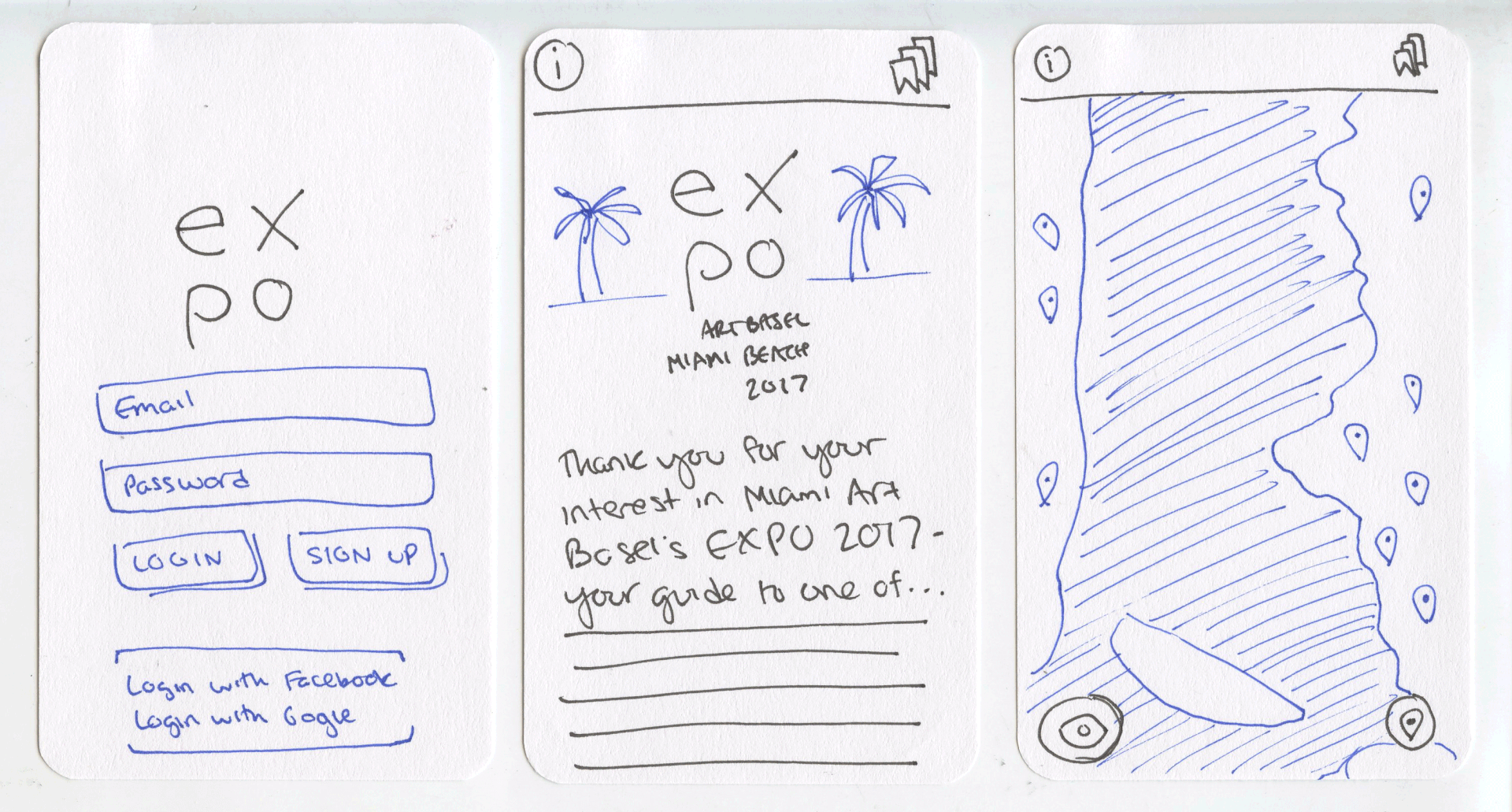 Now that our team had decided which features we would not be concentrating on, we turned our attention to creating an application which was as simple and usable as possible, concentrating on information, wayfinding, and scheduling.  We conducted one round of user tests with paper prototypes of all the main screens in our application thus far and received a huge amount of useful feedback.  Some of the initial responses we gathered at this stage were:
On screens listing events in an alphabetical list, a schedule, or a map, it was unnecessary to remind users what view they were on by displaying the list/schedule/map icon in the lower right corner.
When switching back and forth between a view of all events and a view of only bookmarked events, it wasn't enough of an indication that the screen had switched to simply color in the "bookmarks" icon in the top corner.
It would be helpful to include at least a small tutorial demonstrating to users the purpose of the "bookmarks" and "view" icons, especially if we continued using little to no text in our navigation.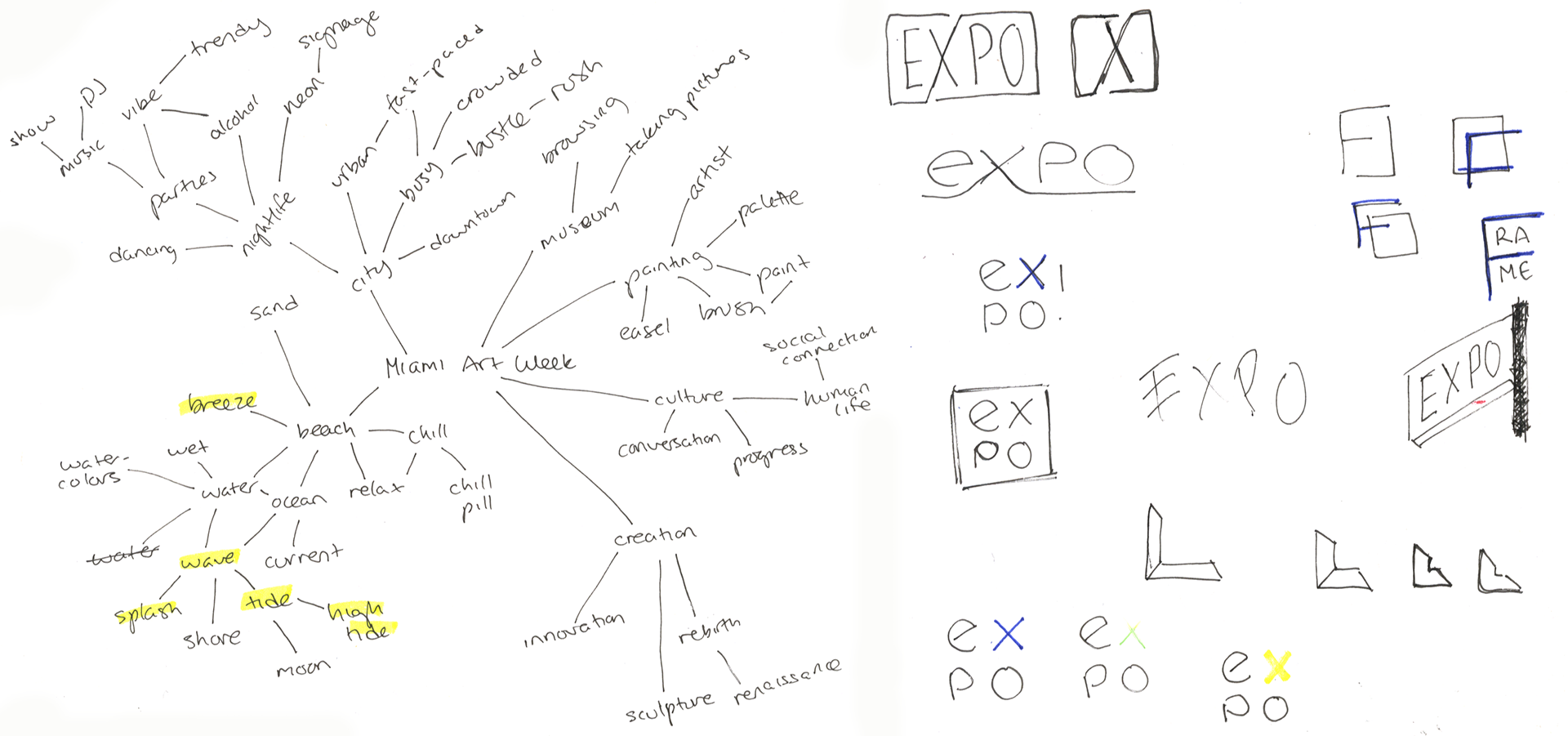 As we rethought our prototypes and upgraded to high fidelity versions, it was time to start dealing with visual design.  We started by brainstorming names for our application, each one having a different aesthetic connotation.  We went through names that sounded tropical, refined, celebratory, exotic, urban, and artistic, and eventually settled on "Expo" since it was short and snappy and conveyed the idea of a variety of works laid out across a large space.  It was artsy but not too artsy.
From the beginning, there was an understanding that our visual design should feel professional without being serious.  All accounts of Art Week describe it as being like a big party, outside of the Art Basel event itself, which is more conservative and exclusive.  We had to marry these ideas perfectly in our user interface, and we also wanted to add a bit of local flair inspired by the bright colors and geometric shapes of Miami Beach's popular Art Deco-inspired architecture.  Google's material design style became a great inspiration to us in creating something that looked professional and established and yet contemporary, using simple line icons and a fluorescent teal as our main brand color.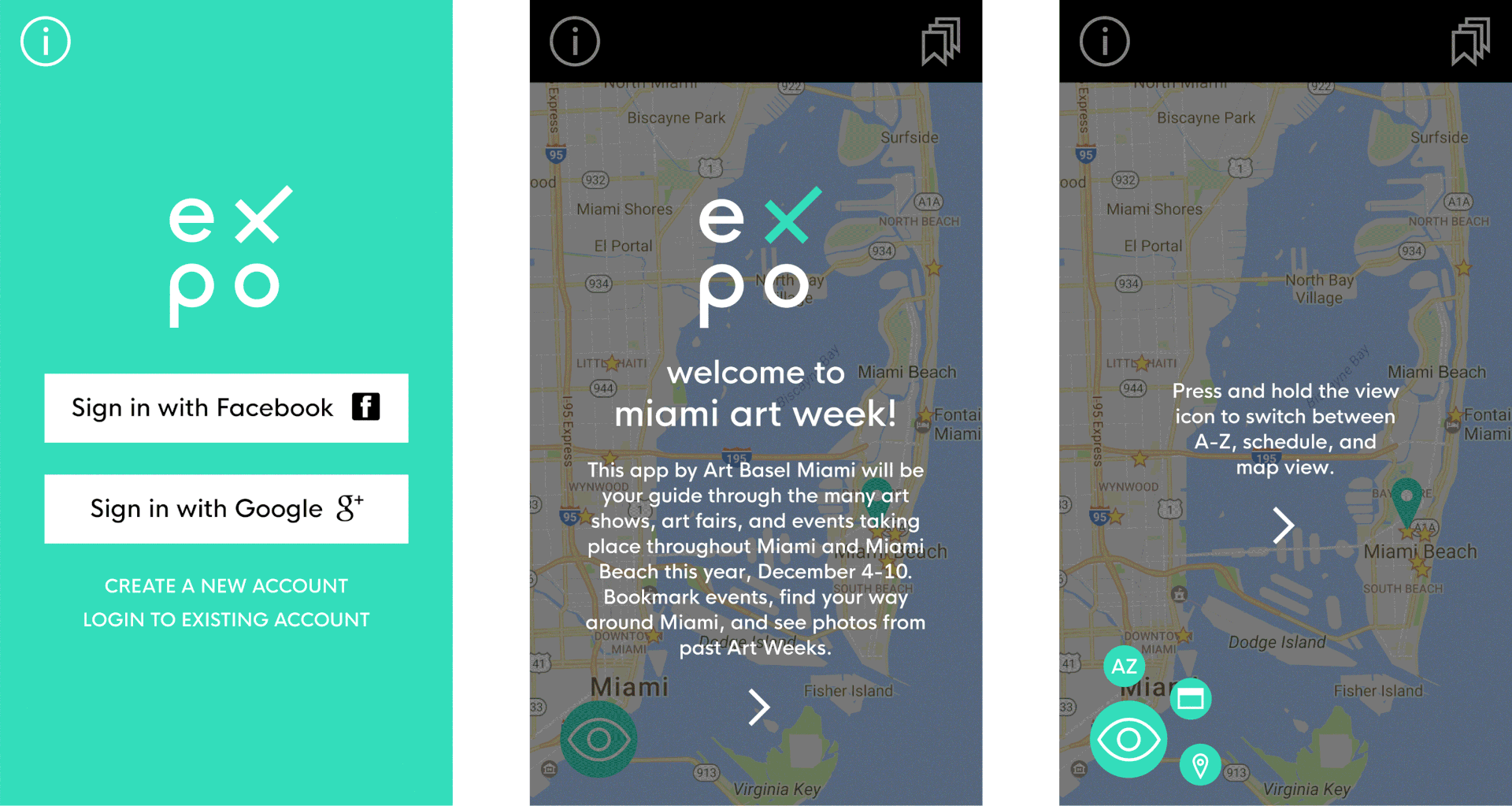 Our second round of prototypes were high-fidelity mockups of each of our application screens, complete with active links set up through Invision.  Armed with feedback from the first round of user testing, we created a list view, a schedule view, and a map view to browse all Art Week events, each of which could then be filtered to see only bookmarked events.  We also included a tutorial to display when the app first opened, on the advice of our classmates who had user tested our paper prototypes.  
Some of the responses we gathered at this stage were:
Amount of visual identity was correct: strong teal color and line style in icons, but not so much that it distracted from the content of the application.
Tutorial was helpful but a bit long and too easy to skip through at the beginning and immediately forget.  It would be nice to be able to pull up the tutorial again, especially as a single overlay (by tapping info icon in the top left, for example).
"View" navigation is intuitive, though the "list" and "schedule" icons could be reconsidered.
Needed stronger indication of whether the user is viewing all events or just bookmarks - subtle shift in color on top navigation bar wasn't enough.  A carrot or other indication of how to switch between all and bookmarks was definitely needed.
Final Revisions & Product Video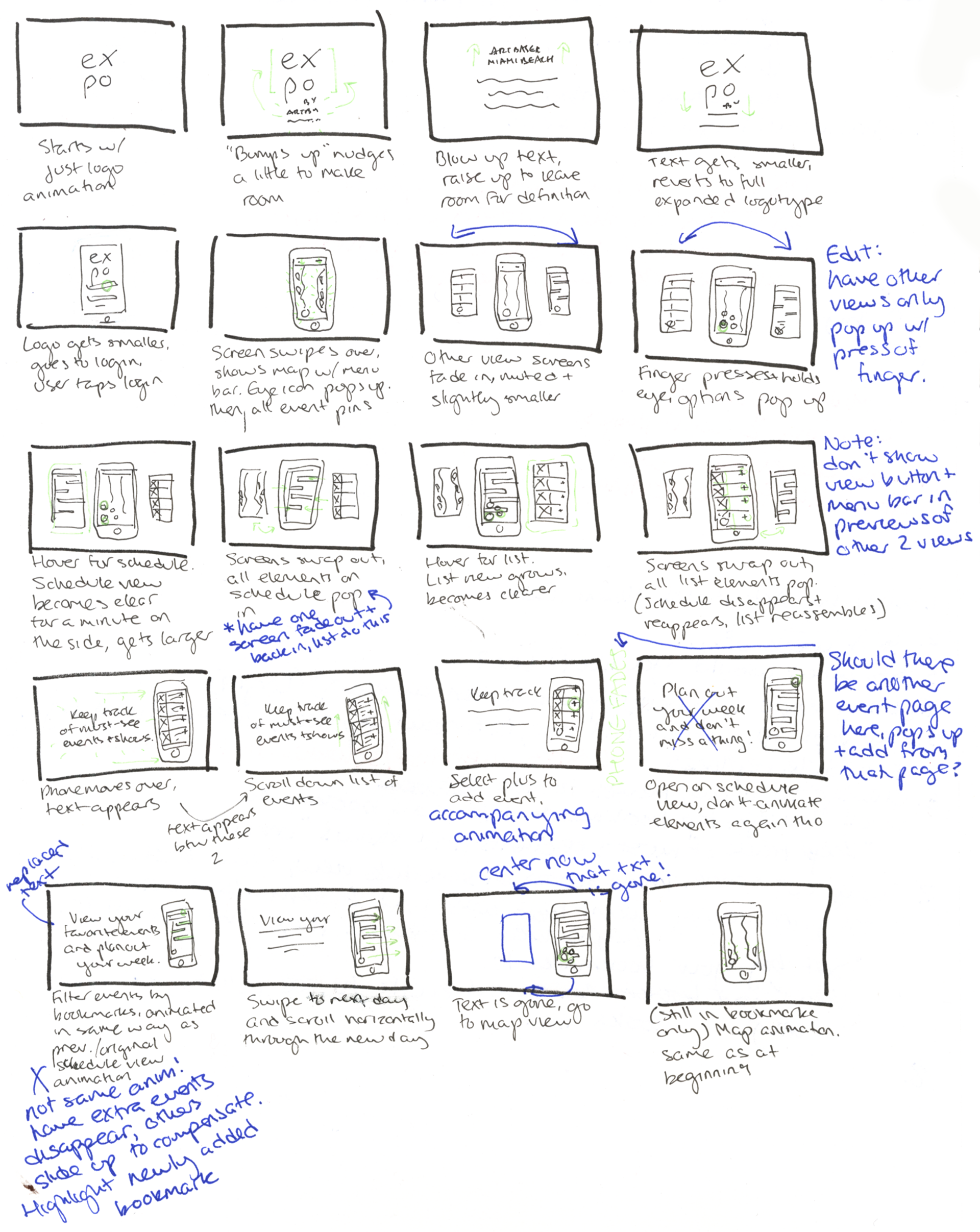 Our completed product was implemented as a series of finished screens for iPhone.  We illustrated the user flow and features of our product in a final product video, which I conceptualized and animated using assets which Lee refined.  Our video and an accompanying presentation in the form of a pitch were shown in front of an audience of our classmates, instructor, and other interested parties.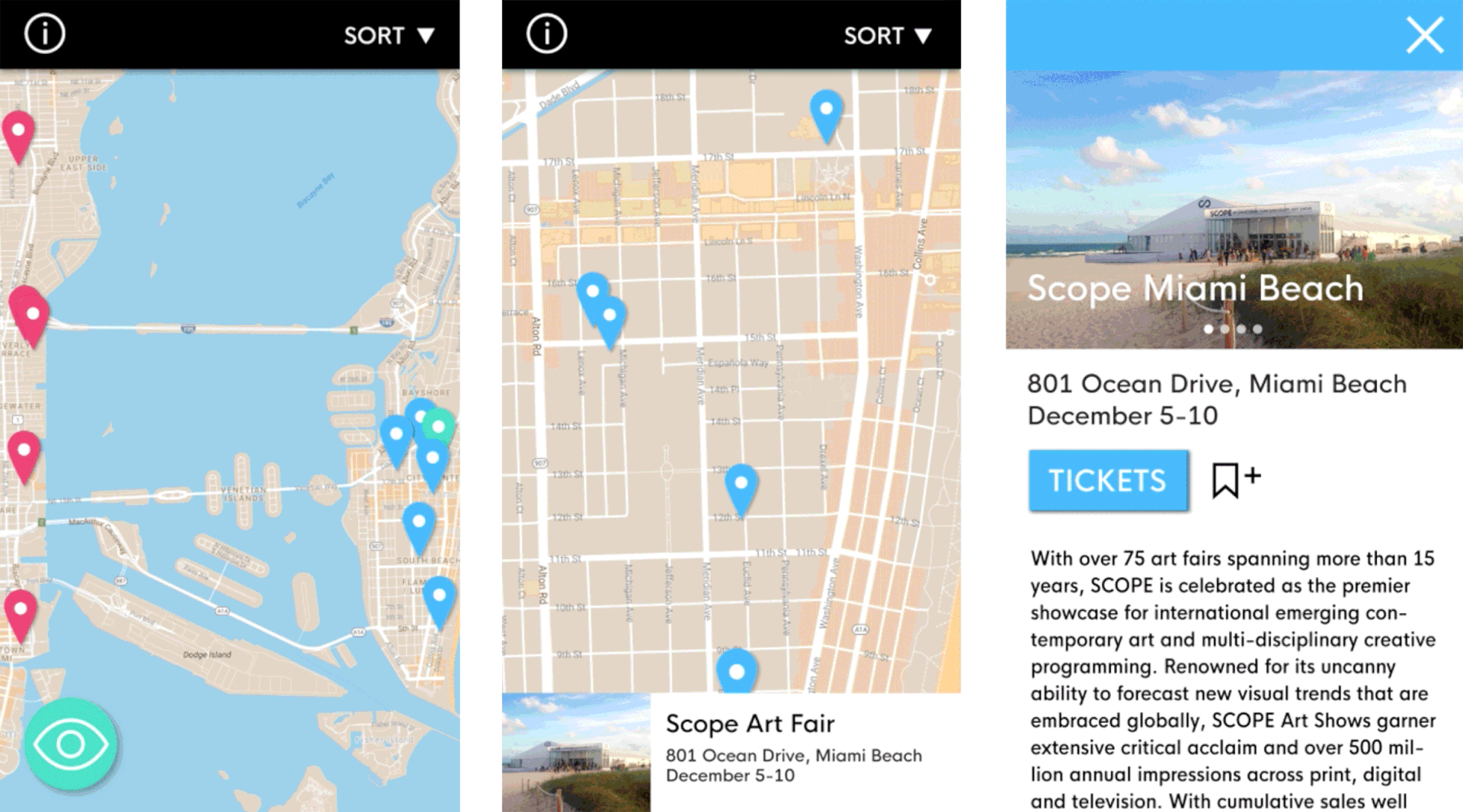 Possibly the most major challenge in fully realizing this project was going through the process of continuously cutting down the app's features.  At times it felt as if we were working against ourselves, eliminating content that we thought users would enjoy.  As designers, our instinct was to try to solve every problem that we discovered in this system.  At the end of the day, though, practicing focus and critical thinking to finish a product that could solve a few specific problems was a valuable experience.  We also learned to design more objectively, prioritizing our app's features based on user and business goals rather than personal opinions.
There are still aspects of Expo that we wish to improve.  For example, we opted to use different colors in the UI to indicate different regions of Miami/Miami Beach, but that was difficult to discern unless a user was looking at the map view zoomed all the way out.  Integrating these colors into the background of our map, providing text explanations, or adding an explanation to our tutorial are some options for clearing this up.  Another positive change would be including more visuals of Miami Art Week in our prototype, further pushing the art party vibe we wanted to convey.